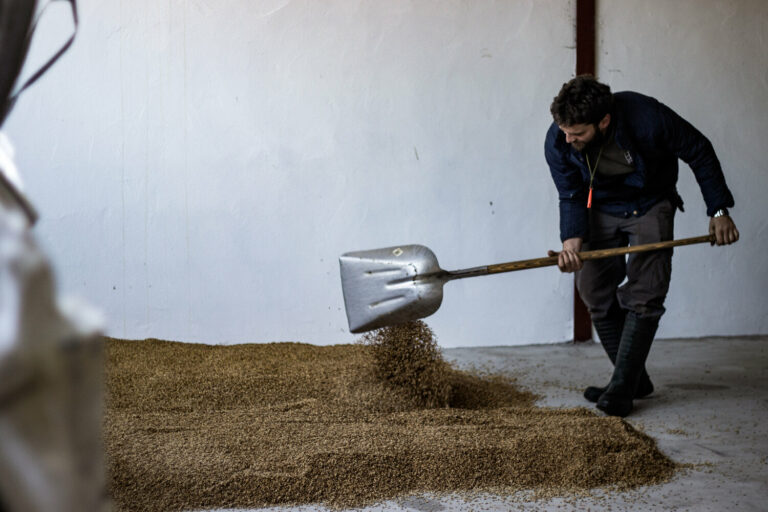 1.38 billion hectares in the world is consider arable land whereby seeds of annual crops are planted every year. This is historically associated with tillage of soil releasing soil carbon and detrimental to soil structure and biology. Biological seed treatments are seen as an opportunity to repair the detrimental effects of tillage, and facilitate the transition to reduced tillage systems while maintaining productivity.
Challenge is that biological seed treatments must be applied as soon as possible before planting the crop to ensure the micro-biology does not deteriorate. Biochar is the home for this soil micro-biology and this has the potential to reduce the loss of this applied microbiology as well as increasing the time in which the seed can be treated. This would greatly increase the practicality of applying seed treatments on farm.
Biological Seed Treatment
Fact sheet
Challenge Tackled
The use of biological inoculants to coat seeds is limited in current agricultural practice.
The major technical barrier is the limited time (24hrs) between applying the inoculant and sowing the seed.
If this time could be extended the application of inoculants on farm could be practical with less associated risk
The efficacy of the biological treatment could be increased by the use of biochar.
Target group, beneficiaries or clients
Regenerative Farmers, Biological Farmers, Horticulture
Seed companies
Biochar producers
Solution
The solution was trialled in 2022 with spring barley trial as well as OST and cover crops.
A technical solution was developed to process the biochar to make the biochar application compatible with existing equipment
The biochar is integrated with nutrients, biostimulants and micro-biology and applied in the rooting zone of the crop
This will enhance the storage capabilities of the treated seed and increase the likelihood of micro-biology surviving application to seed.
The application of biochar in this application enhances the immediate agronomy of the crop, while also having the long term positive effect on subsequent crops by being placed within the rooting zone of the crops
Innovation
Integrating biochar into mainstream agriculture
Application of biochar which can be utilised over a very wide area and at scale
Facilitates other regenerative practices and allows for their practical application
Combination of instant agronomic benefit and long term benefits of soil health and CO2 sequestration
Unique Selling Point
Instant visual effects
Benefits exceeding carbon sequestration of biochar
Applicable at scale
Impact
Visual effect of regenerative practice can inspire a farmer to adopt regenerative practices.
Inspiring agricultural sector to adopt practices that reduce fungicide application and increase soil health.
Inspire industry to adopt CO2 sequestration alternatives current detrimental practices to soil health
It can also be combined with farmer learning of regenerative practices and demonstrate the positive effects of biochar
Feasibility/Transferability
It has a very high transferability since biological seed treatments are available and can be used in different contexts and environments.
It is relatively easy to be produced once the biochar is available. The biological treatments can be purchased from existing stakeholders