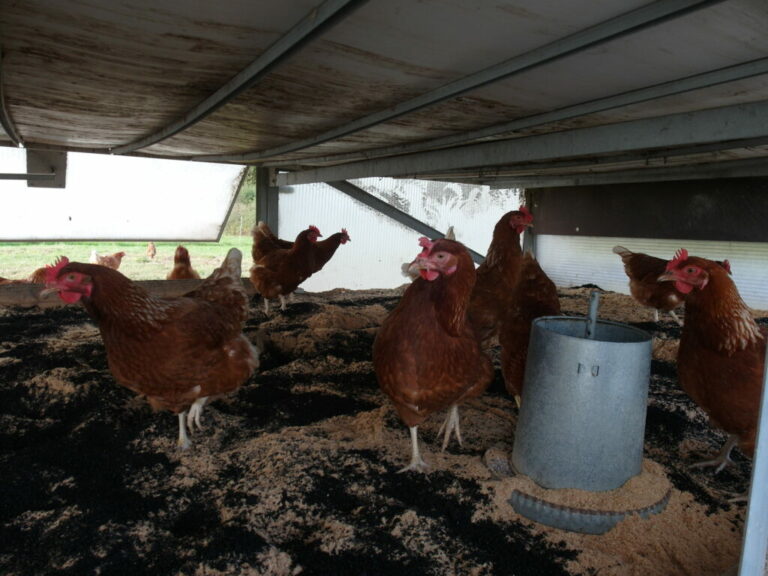 The CAREFUL project focuses on evaluating on how to use biochar as a bedding additive in the best way. The aim is to come up with a biochar based product for chicken farmers that prevent or lessen foot pad diseases. If the same effect is shown to be true, the "product formulation" will be given to producing companies.
Fact sheet
More infomation
Fact sheet
Challenge Tackled
The animal welfare of broiler chickens can be severely affected by elevated ammonia concentrations in the air and foot pad diseases. The major cause of impairment is, among other things, moist and unclean bedding in the stables.
Target group, beneficiaries or clients
Farmers, Representatives from agriculture, business, science and consulting
Solution
The aim of our research project OG CAREFUL is to test the applicability of biochar as additive to common bedding material in broiler farming systems to prevent the development of footpad lesions and to improve animal welfare through the reduction of ammonia emissions.
Innovation
The innovation of the project idea lies in the production of biochar made from residual biomass of the North Hesse region. The use of previously unused biomass is further intended to close regional material cycles and establish sustainable value chains.
Impact
With about 160 million birds, chickens dominate German poultry farms. Laying hens and broilers account for 90 percent of the poultry population and the demand is increasing steadily – not only in Germany, also worldwide. However, especially in broiler farming, footpad lesions and high ammonia concentrations in the stable air are a serious detriment to animal health and welfare. While the inflammatory footpad disorders are most likely painful and can restrict bird movement, high airborne ammonia levels are a risk for respiratory disease in both animals and humans.
Feasibility/Transferability
With successful examination of suitable biomasses for biochar production, generated mostly through agricultural activities, as well as an effective mixing ratio of litter and biochar, the developed utilization path of residual biomass, management strategy in poultry farming and cascading use of biochar can be transferred to most livestock farming systems worldwide.
More infomation