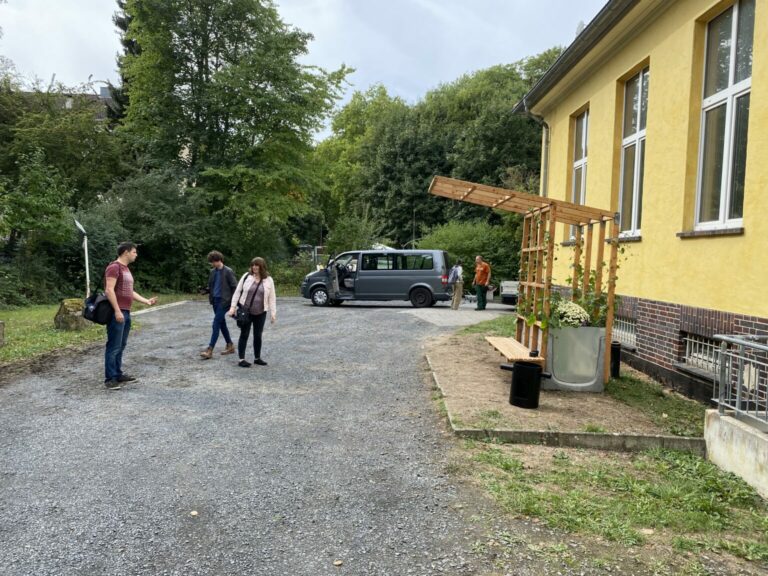 Concrete is probably the most important building material used worldwide. The production of concrete, however, emits extremely high quantities of CO2. If we could substitute less than 10% of ingredients with biochar made from bio-waste we could create a CO2 neutral concrete.
Read more
Within the THREE C project a prototype was developed to produce this CO2 neutral concrete for public water channel pipes. Some of the concrete parts or the channel were up-cycled to become the main structure of the THREE C Bench.
The Bench consists of the concrete bowl (filled with a biochar plant substrate), a wooden seat and a scaffold for climbing plants
The THREE C Bench serves as public furniture – to:
enrich public & private places
demonstrate applied sustainable development in the building industry
support public private community partnership projects
provide opportunities for urban gardening and animal aided design
Fact sheet
More infomation
Fact sheet
a.                  Challenge
One of the processes that emits very high quantities of CO2 is the production of concrete, which is probably the most important building material used worldwide
If we could substitute less than 10% of ingredients with biochar made from bio-waste, we could sequester the equivalent amount of CO2 which is emitted during the production process – thus creating a CO2 neutral concrete
Biochar can be added especially to those concrete products that do not need an utmost stability are not supposed to carry heavy loads, such as public furniture or accessoires made from concrete.
 This is the basic ideas of the THREE C public furniture product line which opens with its first prototype – the CO2 neutral THREE C BENCH.
b.                  Target group / clients
Depending on the target group, other beneficiaries can also be mentioned or referred to directly
The BENCH is attractive for community projects such as public places, Reha centres, home for the aged etc that like to combined with social and community projects
Students (schools, VET, AE, HE) are another target group for the demonstrator which invites for innovative DiY projects with concrete and other materials
Eventually also producers (building industries) shall be attracted
The BENCH  be combined with all kinds of activities, for instance sportive (for spectators for scater-parks), recreative (Rehabilitation or Spa Centres) or public parks and community projects
c.                   Solution
The solution should only be named superficially to give an idea of the concept developed
 The THREE C Bench is a CO2 neutral public furniture which is made from standardised concrete parts used for water pipes.
 The THREE C public furniture are circular economy demonstrators to convince stakeholders to consider more eco-friendly building materials and to create a holistic system which contains:
CO2 neutral concrete
CO2 sequestring substrates (mixture of biochar, compost, which also substitutes peat)
 Attractive, fast growing climbing plants on the rear scaffolds
d.                  Innovation
The innovative perspective could be framed by a word (app) or a short concept description.
CO2 neutral concrete
Easy to produce, also non-licence activities
Promotes citizen science and with it a high community competence potential (capacity building)
Combination with different CO2 sequestering solutions which involves citizens and communities to develop consciousness and competences on a sustainability culture
It can be combined with artistic, culture and handicraft project thus contributing to community actions
e.                  Unique Selling Point
What makes your project special? What does it have, what others don't have?
The Bench is part of a series of CO2 neutral concrete public furniture
Multistakeholder benefit, various purposes
It is a demonstrator for other potential products
f.                    Impact
 It inspires citizens to become sustainable (capacity building)
Inspiring the building sector to turn to CO2 friendly alternatives
It can also be combined with joint learning and developing activities on sustainability and demonstrate the positive effects of biochar made from waste biomass
g.                   Feasibility/Transferability
It has a very high transferability since It can be used in different contexts and environments, in urban, semiurban and rural settings, in public and in private/industry/commercial locations.
It can also be combined with joint learning and developing activities
It is relatively easy to be produced – parts and ingredients can be purchased in DiY shops but also developed in combination with local stakeholders from the building industries or produced in school and VET projects (thus again creating consciousness for sustainable development)
More infomation